Shop By Type
Blade Guide
what to Expect

Blade Types
SGC Series
O-Katana
Katana
Iaito (BLUNT)
Ko-Katana
Wakizashi
Specialty
Shirasaya
Shobu_Zukuri

Shop By Steel
Steel Guide
Steel Types
9260
1060
1045
Differential
Laminated
Folded
Misc Items
Parts
Accessories

About Us
Philosophy
Contact Us
Policy
Shipping

9260 "Tenchi" Ko-Katana
Name
Tenchi Ko Katana - 9260 Fully Functional Sharpened Ko Katana
Blade
Through Hardened 9260 Silicon Alloy Carbon Spring Steel.
Overall Length (+ Saya)
34"
Treatment
Hand Heat Forged, Heat Tempered, Oil Quenched
Finish
Tameshigiri Polish
Blade
21"
Weight (+Saya)
1 lbs 12 oz
Tsuba/Fuchi/Kashira
Antiqued Brass Musashi Double Ring Tsuba with alloy fittings
Balance Point
2" from tsuba
Tsuka/Ho
10.5" Wood
Tsuka Ito
Black Cotton
Mekugi
Wood X 2
Same
Real Ray Skin Panel Wrap
Saya
22" Black Glossy Lacquered Medium Hardwood
There are many pictures which may take some time to load. Please be patient.
This is our Tenchi Ko Katana, made to match the popular 9260 Tenchi Katana. Material and design made to be a matching set with our latest version of the Tenchi Katana... Sharpened functional cutter. It features a 10.5" tsuka and uses double mekugi.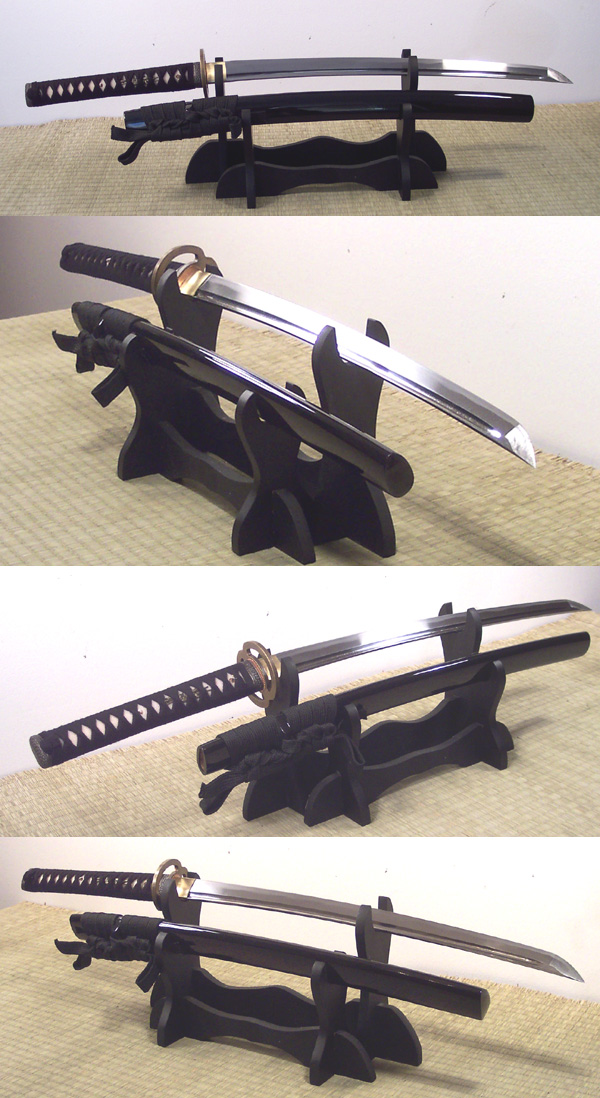 New tsuka core, shape, and ito with a tighter ito wrapping than before. New synthetic sageo much more durable and substantial than the old cotton ito.
9260 "Tenchi" Ko Katana

Sale Price: $199.99
Regular Price: $299.99

This is a 9260 Ko Katana made to provide a matching set of blades for our 9260 Silicon Alloy Spring Steel "Tenchi" Katana. Material spec are the same as our latest Tenchi katanas. (Available with bo-hi only).

Tenchi Ko Katana (with bo-hi)