Type 12 - "Tenchi" 9260 Spring Steel
Name
"Tenchi" (Heaven and Earth)
Blade
9260 Silicon Alloy Carbon Spring Steel.
Overall Length (+ Saya)
42.5"
Treatment
Full Hand Forged, Through Tempered, Oil Quenched, Hand Polished
Finish
Tameshigiri Polish
Blade Dimension
28" Length, 0.3" Width, 1.25" Height
Sori (Curvature)
0.7"
Weight
2 lbs 5 oz (with fuller), 2 lbs 9 oz (without fuller)
Tsuba/Fuchi/Kashira
Antiqued Brass Musashi Double Ring Tsuba with alloy fittings
Balance Point
5" above tsuba (with fuller), 6" above tsuba (without fuller)
Tsuka/Ho
11" Wood
Tsuka Ito
Black Cotton
Mekugi
2 X Wood (Double Pinned)
Same
Real Ray Skin Panel Wrap
Saya
30.5" Black Glossy Lacquered Medium Hardwood
---
There are many pictures and may take some time to load - Please be patient
This is the overall appearance of the sword. Shape of the tsuka (before drilling), and kissaki geometry. The Tenchi has our standard 28" in length from notch on habaki to kissaki. Solid width at 0.3" with a sori of 0.7".
The nakago (tang) on all our new standard blades have increased in taper and finished cleanly. Tsuba is constructed of solid brass with antiqued finish, kashira and fuchi are alloy with a matching antiqued brass finish, with the tsuba in a beefy Musashi double ring design. Additionally, bo-hi geometry and kissaki have all been improved from our first generation blades.
Tsuka (Grip) and nakago (Tang) - Real same skin (Ray Skin) panel wrap over wood then wrapped in black cotton cord. Also note the new double wooden mekugi (Retaining Pin).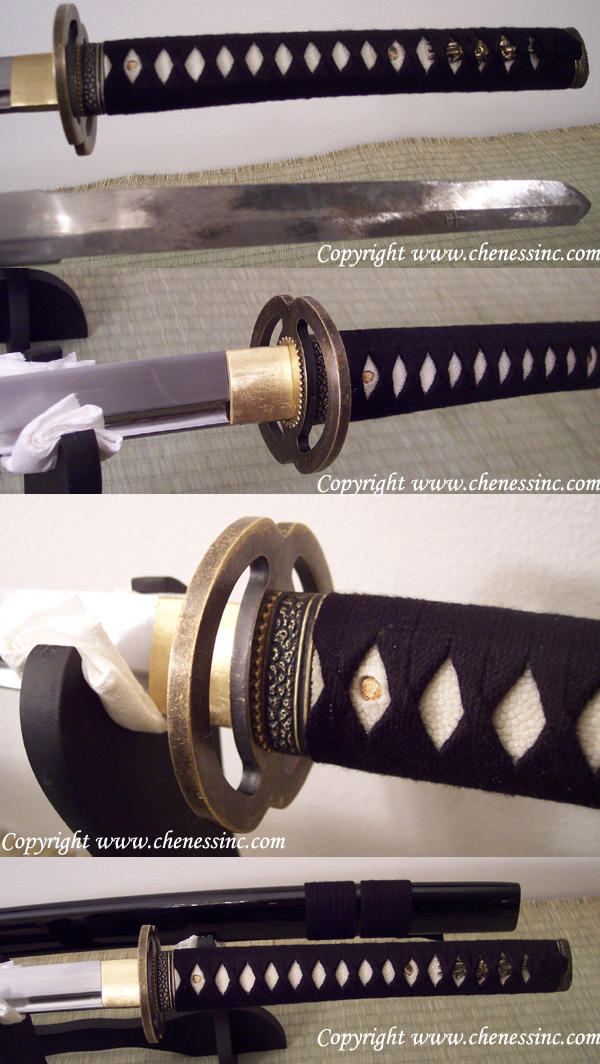 The Tenchi is available in 2 versions. With fuller (bo-hi) and without.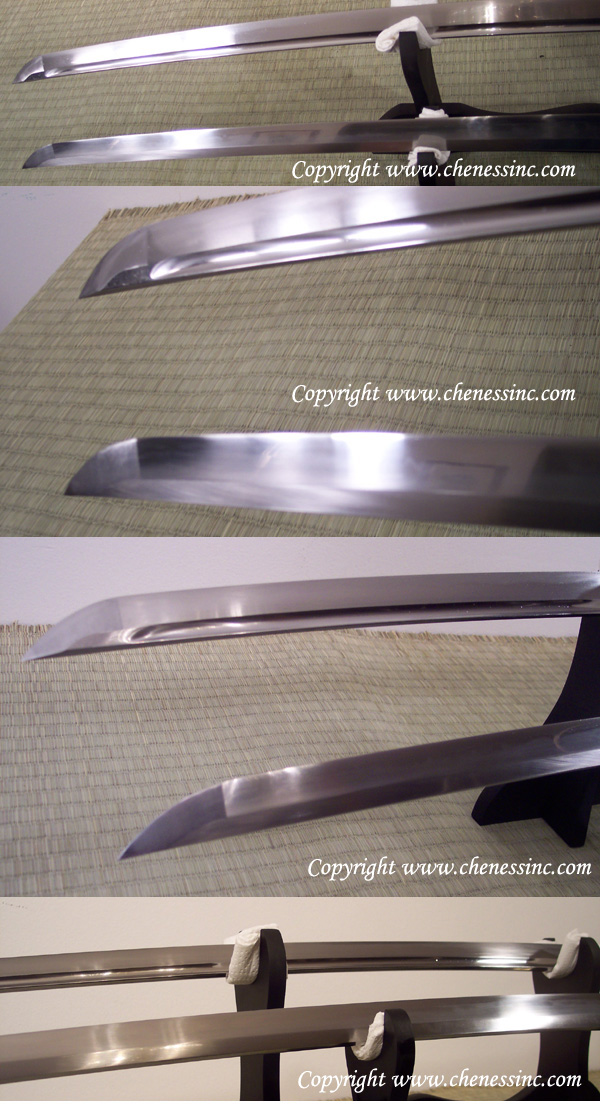 NOTE: We are using a modified heat treatement method on the second generation non-fullered version of this blade to improve the performance of the solid blade body. Heat treatment of the fullered version remains the same as those from the first generation.

Type 12 Katana - "Tenchi" - 9260 Silicon Alloy Spring Steel Katana
Sale Price: $279.99
Regular Price: $499.99

The "Tenchi" (Heaven and Earth) katana uses our most durable material for its blade construction. The blade body is a 9260 silicon alloy carbon spring steel. It is handsomely finished with a cast brass Musashi Double Ring tsuba that is thicker than the standard steel tsubas with an antiqued finish. This sword has a heftier and more antiqued look and feel than other steel fitted blades.
(The no-fuller version blade has a more forward center of gravity heavier weight. This type of blades have more lateral strength and are easier for tameshigiri from the weight and the reduced drag. Whereas the varient with fuller is better for kata practice, the no-fuller varient is better for cutting practices.)
Tenchi Katana with Fuller (with Bo-hi)