Type 21 - "Ranko"
Name
"Ranko"
Blade
Through Hardened 1045 Carbon Steel Katana.
Overall Length (+ Saya)
42.5"
Treatment
Full Hand Forged, Through Tempered, Oil Quenched, Hand Polished
Finish
Tameshigiri Polish
Blade Dimension
28" Length, 0.3" Width, 1.25" Height
Sori (Curvature)
0.7"
Weight
2 lbs 6 oz (with fuller), 2 lbs 10 oz (without fuller)
Tsuba/Fuchi/Kashira
Blackened Alloy Tsuba Fuchi Kashira with Dragon Menuki
Balance Point
5" above tsuba
Tsuka/Ho
11" Wood
Tsuka Ito
Black Cotton
Mekugi
2 X Wood (Double Pinned)
Same
Real Ray Skin Panel Wrap
Saya
30.5" Black Glossy Lacquered Medium Hardwood
There are many pictures and may take some time to load - Please be patient
This is the overall appearance of the sword. The Ranko is our most affordable katana. It is heat forged, hand hammered, oil quenched, hand sharpened and hand polished. It is fully functional and constructed of through hardened 1045 carbon steel.
This katana is the replacement for our Ichi Maru and has several upgrades. The tsuka is now 11" and is double pinned with wooden mekugi.
This katana is only available in version with bo-hi.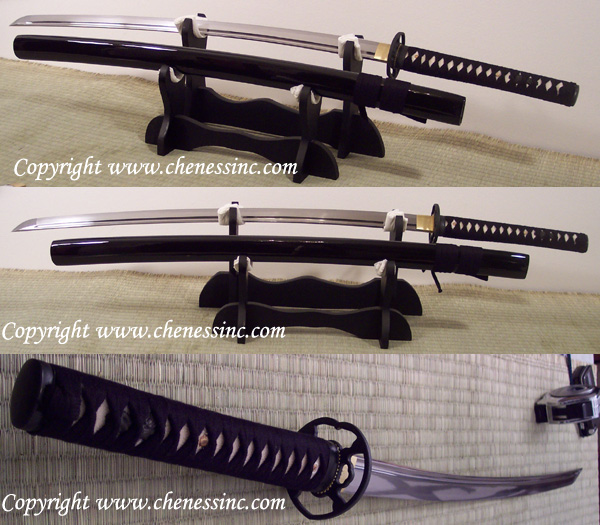 Tsuka (Grip) and nakago (Tang) - Real same skin (Ray Skin) panel wrap over wood then wrapped in black cotton cord. Also note the new double wooden mekugi (Retaining Pin).
Shape of the tsuka (before drilling)
The second image down is a photograph from the edge of the blade. It shows the geometry of how the blade is sharpened. There are no secondary bevel.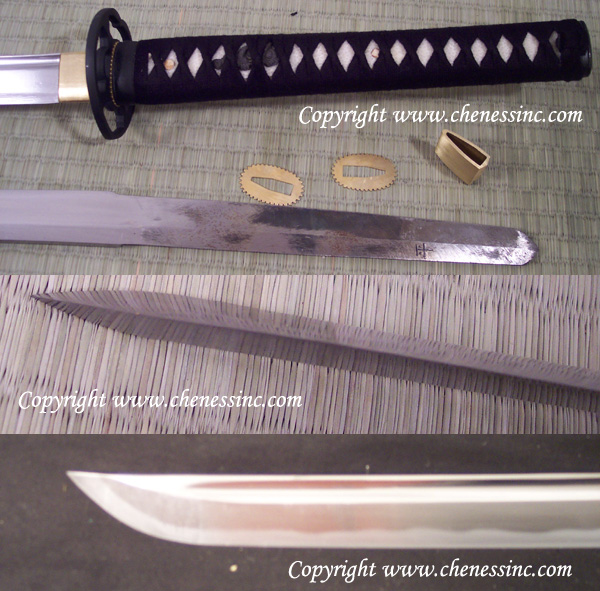 The Ranko uses a smooth matt black finish on its tsuba, fuchi, and kashira. The menuki are a matching finish with dragon pattern. The Ranko fittings are aftermarket parts as with our Mokko katana.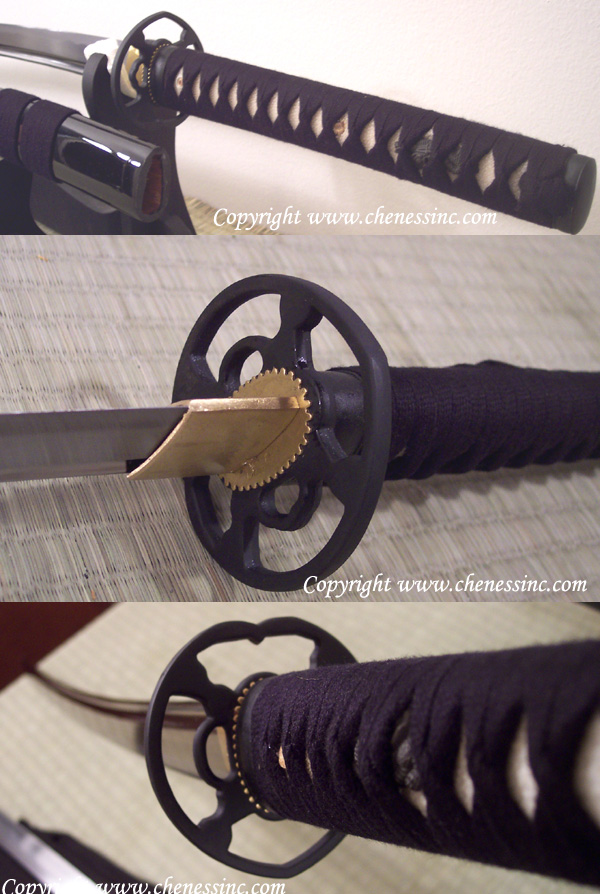 Type 21 Katana - "Ranko" - With Fuller (bo-hi)
Sale Price: $149.99
Regular Price: $279.99