Type 7S - "Mokko Ko Katana"
Name
Mokko Ko Katana - 1060 Fully Sharpened Ko Katana
Blade
1060 Through Hardened Carbon Monosteel.
Overall Length (+ Saya)
34"
Treatment
Through Hardened, Hand Heat Forged, Oil Quenched
Finish
Tameshigiri Polish
Blade Dimensions
21" Length, 0.3" Width, 1.25" Height
Weight (+Saya)
1lb 12 oz
Tsuba/Fuchi/Kashira
Glossy Finished Alloy Mokko Bamboo tsuba set (Aftermarket)
Balance Point
2" from tsuba
Tsuka/Ho
10.25" Wood
Tsuka Ito
Black Cotton
Mekugi
2 X Wood (Double Pinned)
Same
Real Ray Skin Panel Wrap
Saya
24" Black Glossy Lacquered Medium Hardwood
NEW Video of Mokko and steel folding chair. (11/21/05)

This is a quality control/destruction/torture test to show that the cutting edge of our blade is made right/properly heat treated. (Do NOT ever do this to a katana unless you intend to destroy it for testing purposes).

The blade on the Mokko is through hardened to optimize the quality of the 1060 carbon steel. This is not to show the katana being able to go through the chair... but that the tip can withstand the force without bending, rolling the tip, or chipping the kissaki.

Download Video (3mb) - Windows Media Video.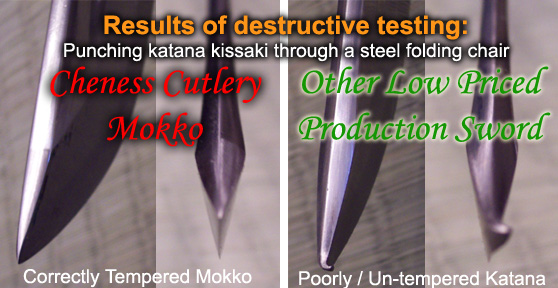 There are many pictures which may take some time to load. Please be patient.
This is a custom, extended grip wakizishi made to match the original Mokko Katana in steel and appearance. This sword was originally made at the request of a dojo. This is a specialized two handed cutter and is surprisingly easy to use relative to a standard wakizashi... whether it be used as a one handed or two handed blade.
Like the Mokko, this sword uses the high carbon 1060 carbon steel. It is through hardened and makes a very durable cutting sword, especially at its length.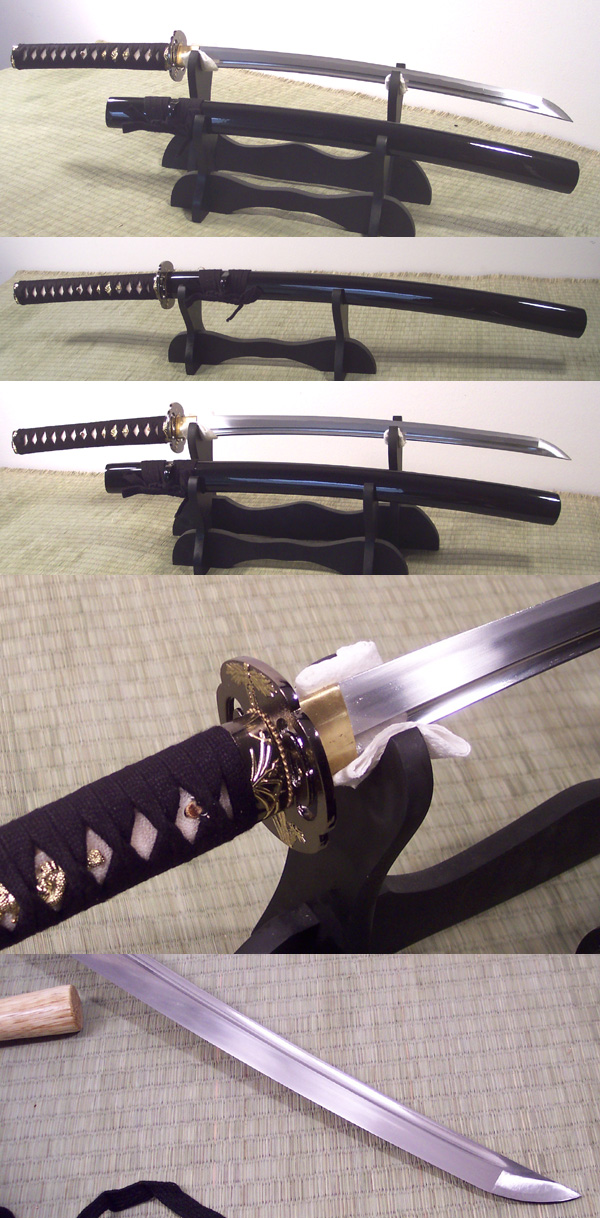 Blade geometry is simple and straightforward. Matching the appearance of all our other katana. The current batch (final batch) of this ko katana uses a glossy alloy fitting set matching the old original Mokko katana line.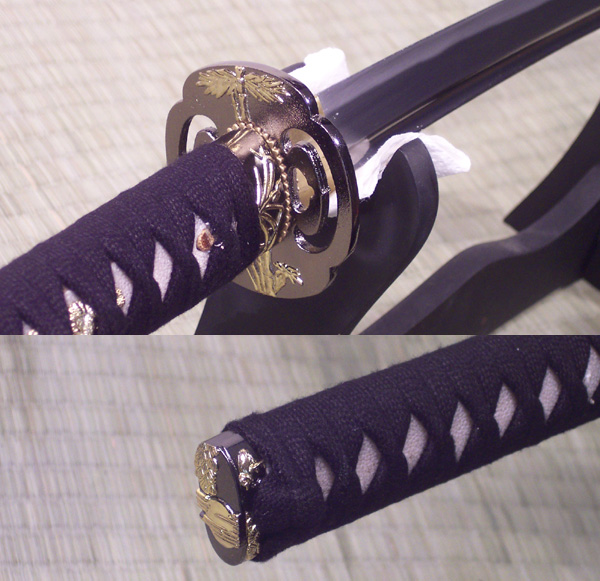 Everything about the blade from the habaki forward is the same as our standard wakizashi. Everything from the habaki back is the same as our standard katana.
A very unique sword not available elsewhere.
Type 7S Katana - "Mokko Ko Katana"
Sale Price: $169.99
Regular Price: $299.99
IN STOCK NOW!
NOTICE! - This particular fitting style has been discontinued and is available with a set which matches the current Mokko Katana mountings..
Using a through hardened 1060 carbon steel blade, this sword matches our "Mokko" katana in almost every way except in blade and handle length. This blade is created in response to our surprisingly popular ko-katana (chisa katana) lines where the katana length tsuka (grip) is matched up with the wakizashi length blade.