"Kaze" - 9260 Differentially Hardened Spring Steel Katana
Name
"Kaze" (Wind)
Blade
Differentially Hardened 9260 Silicon Alloy Carbon Spring Steel.
Overall Length (+ Saya)
42.5"
Treatment
Full Hand Forged, Clay Hardened, Water Quenched, Hand Polished
Finish
Tameshigiri Polish
Blade Dimension
28" Length, 0.3" Width, 1.25" Height
Sori (Curvature)
0.7"
Weight
2 lbs 9 oz
Tsuba/Fuchi/Kashira
Blackened Cast Steel Tsuba with Antiqued Brass Fuchi/Kashira
Balance Point
5" above tsuba (with fuller), 6" above tsuba (without fuller)
Tsuka/Ho
11" Wood
Tsuka Ito
Brown Cotton
Mekugi
2 X Wood (Double Pinned)
Same
Real Ray Skin Panel Wrap
Saya
30.5" Black Glossy Lacquered Medium Hardwood
---
There are many pictures and may take some time to load - Please be patient
This is the overall appearance of the sword. Shape of the tsuka (before drilling), and blade geometry. The Kaze has our standard 28" in length from notch on habaki to kissaki. Solid width at 0.3" with a sori of 0.7". Tsuba is blackened cast steel tsuba. Kashira and fuchi have reverted back to antiqued brass "nugget" pattern finish. But the most attractive part to this blade is the natural hamon.
The Kaze does not have the same resiliency as the through hardened 9260 "Tenchi" or "Shura", but is stronger than the Kanbai katana. Differential hardening only allows for a portion of the blade to utilize the potential of the properly heat treated silicon alloying agent. This, however, more closely resembles the behavior of a traditionally constructed blade.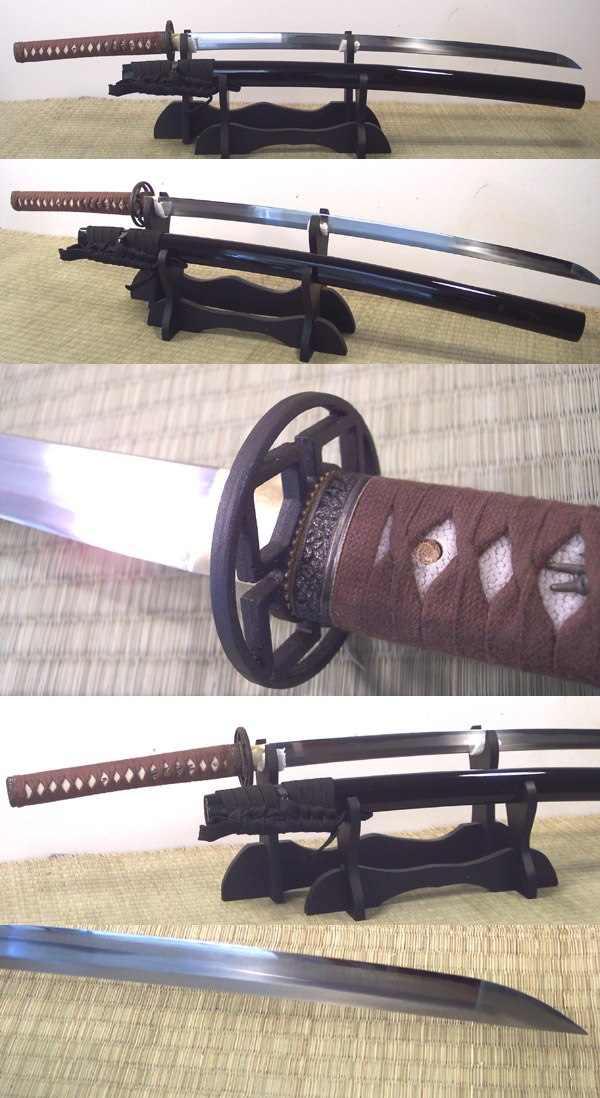 The natural hamon on the Kaze is more defined than those on the Kanbai katana. This is due to 2 factors: 9260 reacts to clay hardening differently than 1045... There are less activities on the border of the hamon, but a more distinct pooling of the nie crystal, making for a cleaner, better defined hamon line. Secondly, the kaze has an ever-so-slightly better polish for the purpose of bringing out the natural hamon.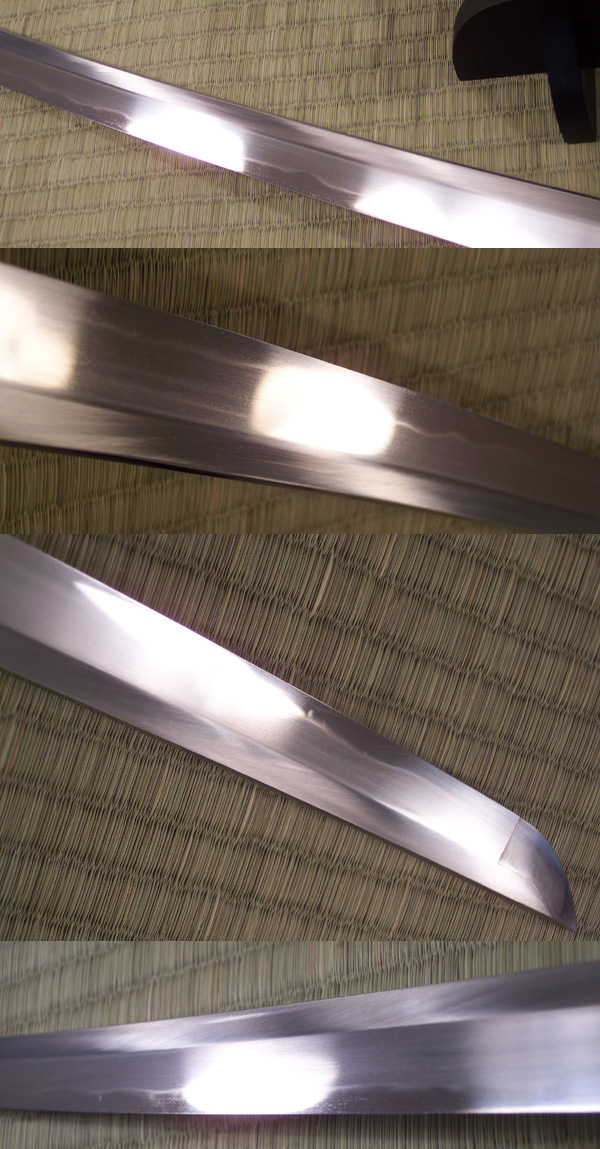 The beautiful natural hamon on the differentially hardened 9260 Spring Steel blade allows for it to be further brought out by etching or polishing the steel. This sword is made as a means to make our 9260 DH available in a near-bareblade format. Allowing for customizing, projects, and experiments. (Following photos are from a re-worked 9260 DH by Christian Beer.)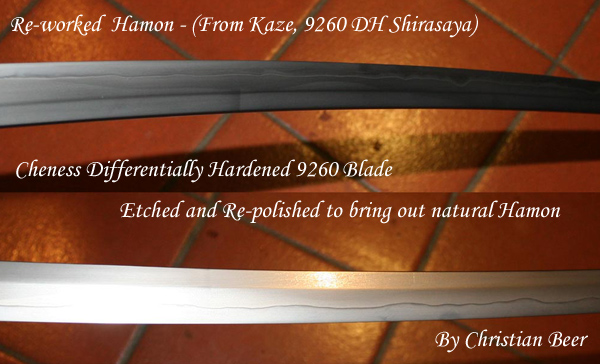 The tsuba on the Kaze is a cast steel construction. The design are based on an antique tsuba submitted to us. Tsuka (Grip) and nakago (Tang) - Real same skin (Ray Skin) panel wrap over wood then wrapped in brown (updated) cotton cord. Double wooden mekugi (Retaining Pin).

Differentially Hardened 9260 - "Kaze" Katana
Sale Price: $299.99
Regular Price: $599.99
The Kaze (Wind) is the result of many popular requests for a clay tempered (hardened) blade using our 9260 Silicon Alloy Spring Steel. The blade body of the Kaze is a hand clayed and differentially heat treated 9260 silicon carbon spring steel. It is finished with a replica of an antique blackened cast steel tsuba submitted to us. This steel is stronger than our Kanbai katana, but does not have the same resiliency of the through hardened 9260. The gain from the clay hardening is that the blade has a smooth and elegant natural hamon (9260 does not generate the same hamon as the Kanbai katana).
Kaze Katana (Brown tsuka ito wrap)